Kitchen renovation can be as simple as installing kitchen cabinet or as complicated as a kitchen extension. Kitchen renovation works can be both time and money consuming if not being planned properly.
The reality is nowadays not many really cook, especially for KL & Selangor household as most parents have to work. But many still desire to have their dream kitchen.
For renovating a kitchen, homeowners must first plan the ideal colour scheme they like, cabinet materials, countertop materials, kitchen sink type, kitchen flooring, kitchen lighting, positioning of stove and basin and so much more.
On top of that, you still have to consider the price for each item and even compare the rate from different contractors. It could be overwhelming.
Don't worry, check out the kitchen renovation ideas below. Then, contact us so that our team will take care of the rest of the work for homeowners professionally at a reasonable price.
We have rounded up some of the best kitchen styles to inspire your own renovation project.
Check out the 7 distinct kitchen design style as below:
Minimalist kitchen design
Contemporary kitchen design
Modern kitchen design
Industrial kitchen design
Scandinavian kitchen design
Muji-style kitchen design
Luxury kitchen design
Rustic kitchen design
Farmhouse kitchen design
1. Minimalist kitchen design idea
This minimalist kitchen is all simple and elegant. It uses the minimum element possible. As you can see, there are only 2-3 colours appeared. It uses an all-white cabinet, white ceiling, white kitchen backsplash.
Then, stainless steel finishes are used on the electrical appliances, kitchen faucet and bar stools.
2. Contemporary kitchen design idea
Contemporary kitchens are much like modern kitchens. They are usually, clean, bold, bright and effortless. However, they are usually less sharp and more diversification material used for the material.
The kitchen above uses flat front cabinets, quartz counter top and a simple grey tile backsplash.
Stainless steel appliances are not covered up. Instead, they are made to be seen and match with other stainless steel fixture (kitchen faucet) in this kitchen.
3. Modern kitchen design idea
Modern kitchen design is all about open concept layout that there is seamless transition from living room to kitchen space.

Huge kitchen island with black marble countertop is the centrepiece of this modern kitchen. It is great for preparing food and having a quick breakfast together.
All cabinets features a sleek flat front door with no handle which make the kitchen looks minimalist and modern. All electrical appliances like wine bar,oven and fridge are built-in together with the kitchen cabinet.
Also note that the use marble kitchen backsplash that is consistent with the whole design style.
4. Industrial kitchen design idea
Industrial style kitchen feature wide space, nostalgic atmosphere and the use of old objects/furniture.
The big old dining table set the tones of this kitchen. The pop of yellow and blue colour chairs add some fun to this space.
The walls are left bare with the concrete finish and cabinet doors are made of timber. Most of the top shelves are exposed instead of using cabinet to enhance the industrial looks.
The final touch to this kitchen is the use of industrial style lighting which mimics the factory mood.
5. Scandinavian kitchen design idea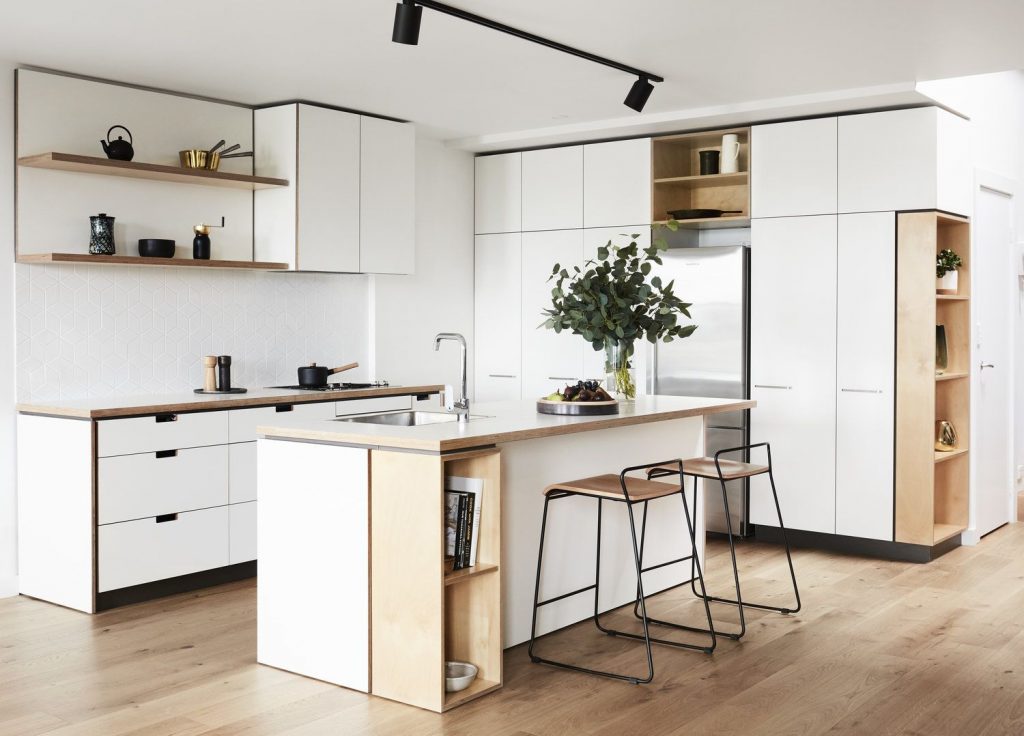 As mentioned before in our article on bathroom design ideas, Scandinavian design emphasizes on minimalism, clean, and comfortable vibe.
This kitchen combines the elements of modern design and scandinavian element. The kitchen cabinet design is robush and elegant. There are enough cabinet for storage as well as open shelf for easy access of kitchenwares.
It uses modern hexagon-shaped tile back splash. And modern trimming like shadow gap can been seens all around the cabinet which makes up the unique look of the cabinet.
A good balance of natural wood, white and black colour make it an outstanding Scandinavian style kitchen. A couple of green plants are a nice addition to the kitchen.
6. Muji-style kitchen design
Muji living is all abouot simplicity and comfort.
This kitchen space features Muji elements like white colour and natural wood finish.
The kitchen cabinet is extremely minimalist with all-white flat front finish.
The most unique element of this kitchen is its natural wood backsplash that has been treated with a water-resistant coating. And the kitchen top and trim of cabinet also uses natural wood finish which adds warmth to the kitchen effortlessly.
7. Luxury kitchen design
This is a modern luxury kitchen. The key element in this design is the use of triangular-shaped trellis instead of a standard backsplash. The trellis gives better natural lighting and airflow to the whole kitchen area.
The cabinet is mainly made of natural wood finish. Kitchen countertop is made of black marble with a mathing set of black bar stool.
The hanging lighting fixtures make the kitchen feel more luxury and less dull.
8. Rustic Kitchen Design Idea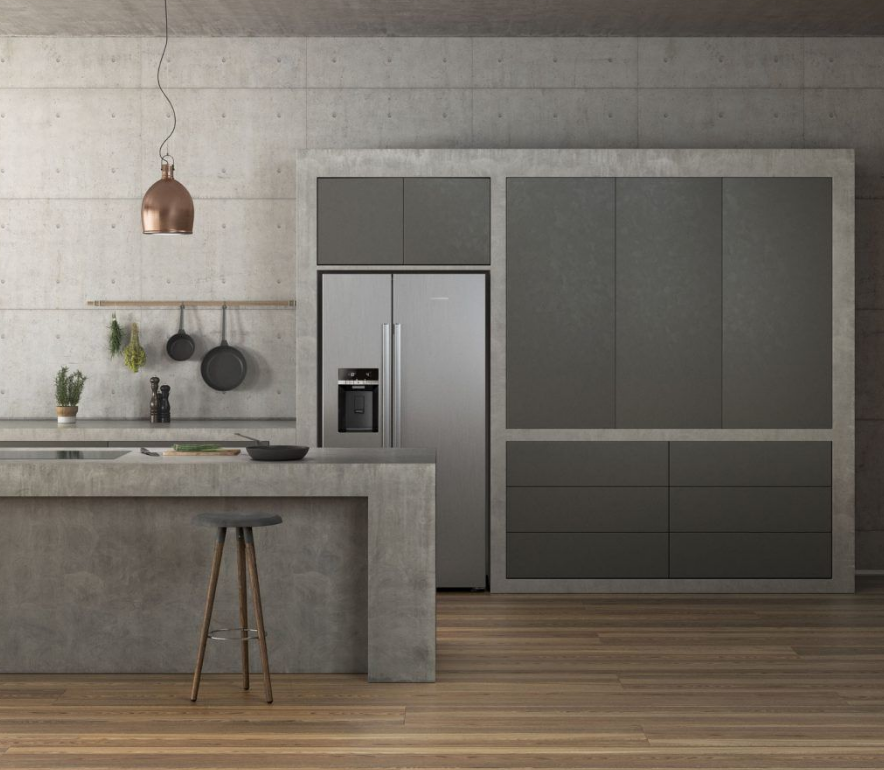 This kitchen is overflowed with rustic style. The whole wall and backsplash concrete wall finish. The kitchen island is also a concrete surface finish.
Cabinet doors are painted in grey colour to match the whole colour scheme. No plaster ceiling is installed and the ceiling is not painted too.
This design may not suit everyone but those who love it will definitely appreciate the aesthetic.
9. Farmhouse kitchen design idea
This is a modern farmhouse inspired kitchen design. The grey kitchen looks great with the contrast green colour subway tile back splash.
Farmhouse design embraces old design element like cottage style cabinet door and visible handle. If you pay enough attention, you might notice the handle is actually made of leather that makes the shelf unit looks nostalgia and high end at the same time.
A solid timber counter top and open shelf with solid timber piece make this farmhouse kitchen a masterpiece.
Littleants Studio team will:
✔ consult and guide homeowners of suitable types of kitchen renovation works to be carried out
✔ help design the layout, built-in furniture, backsplash material, kitchen countertop mateial. Recommend lighting fixture and every small detail.
✔ always negotiate the best deals from our suppliers to give you the best quality for your budget
✔ project managing the renovation to ensure everything runs to agreed schedule and keep owners updated
Schedule a free site visit and get quotation with us today! Or reach out to us through FB-messenger