We are glad that we are given opportunities to deliver a number of successful projects throughout the year 2020.
Our focus is always on building a pleasant and comfortable living place for homeowners.
Here are few of our recent completed projects.
The Riyang @ Happy Garden
In this project, the owner wished to renovate their new home into a minimalist and cosy living place with a limited budget.
Living Room
With that in mind, for the living room, we decided to only furnish a simple TV console with no feature wall. So, the space remains clean and save cost at the same time.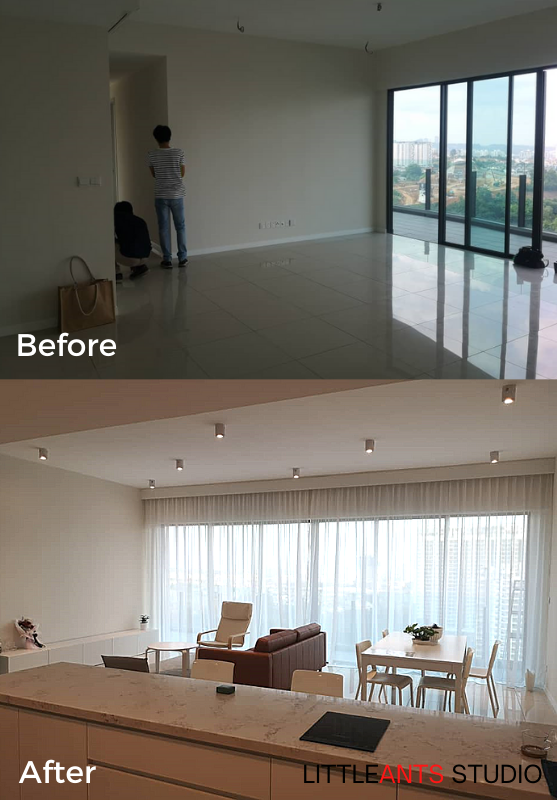 Daylight sheer curtain is provided in the living room to soften the direct sunlight. The texture and softness of these fabrics do wonders in enhancing the room ambience.
It also provides a layer of privacy to the owners while not compromising on natural daylight in the room.
On top of that, we have used surface LED eyeball instead of LED downlight to provide mild but sufficient lighting at night.
Kitchen
The owner wishes to have a full-featured dry kitchen area where she can do simple cooking as well as having an abundance of storage space.
To keep the whole dry kitchen and living room area as minimalist as possible, we have opted for a simple white panel cabinet instead of using timber grain or glass panel.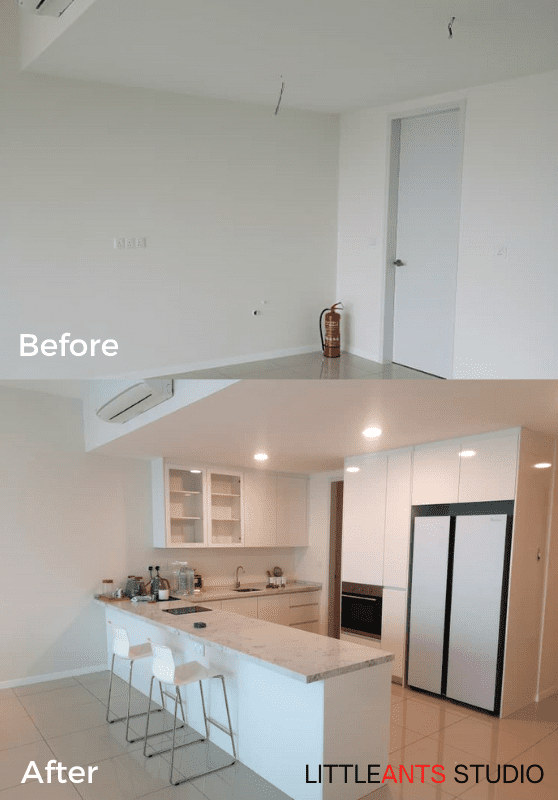 We also provided a big "L-shaped" kitchen bar counter to separate the dry kitchen area from the living room area.
Marble-like quartz stone tabletop is used to add an element of luxury into the dry kitchen, yet keeping the cost affordable.
Ohako Residensi @ Bandar Puchong Jaya
In this job, our client is a single young Gen-Y who wanted to have a simple but modern design for his new home at Ohako.
In order to save cost, we didn't propose any built-in TV console or TV feature wall.
Instead, we have only provided a simple TV cabinet loose furniture.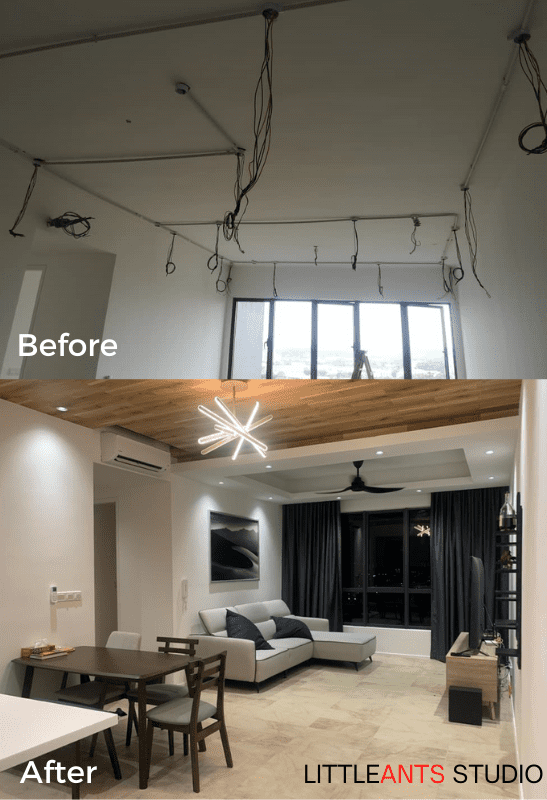 We focus only the lighting, ceiling and curtain to achieve a modern and elegant design.
We have installed timber-grained wallpaper on the ceiling to separate living room from the dining and kitchen area.
This immediately create a stark contrast between these two spaces and elevate the ambience.